Forest Park Community Centre has 2 rooms for hire for parties, meetings, conferences and various other activities.
The main hall measures approximately 8m x 14.5m (48ft x 26ft with a ceiling height of 12ft) and is licensed for up to 120 persons. It costs from £12 per hour to hire. There are plenty of tables and chairs, both adult and toddler size.
Main Hall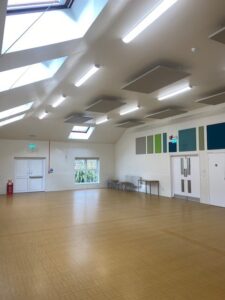 Main Hall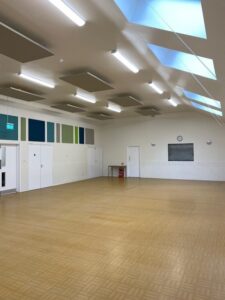 The lounge is a carpeted room measuring approximately 5.75m x 10.75m (34ft x 14ft) and is licensed for up to 50 people. This room costs from £8 per hour to hire.
The centre also has a large well equipped kitchen which can be used with either the hall or lounge. The kitchen has several electric kettles, a fridge, 2 microwave ovens, a wall mounted water heater, tea pots, mugs, jugs, various pieces of crockery and a first aid kit.
If you are interested in hiring a room at the centre please use our contact page to send an enquiry or call 01344 302872 or email direct to forestparkcc@live.co.uk